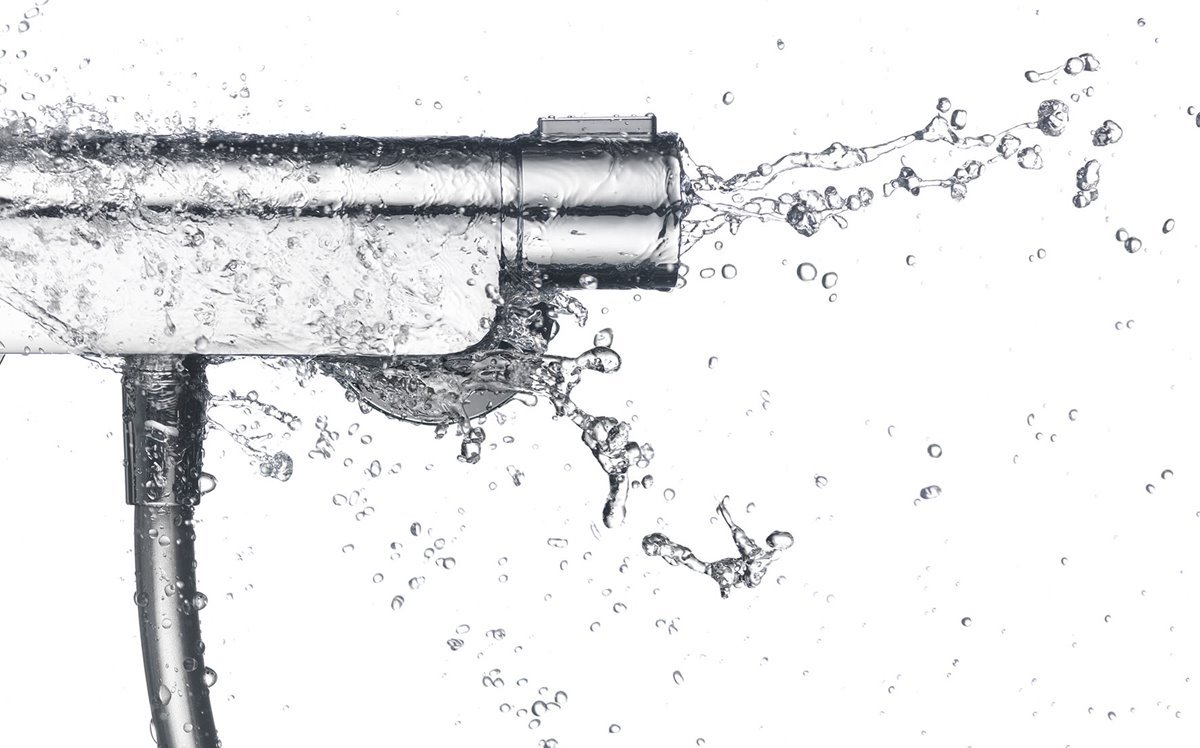 Choosing the best Shower for your Water System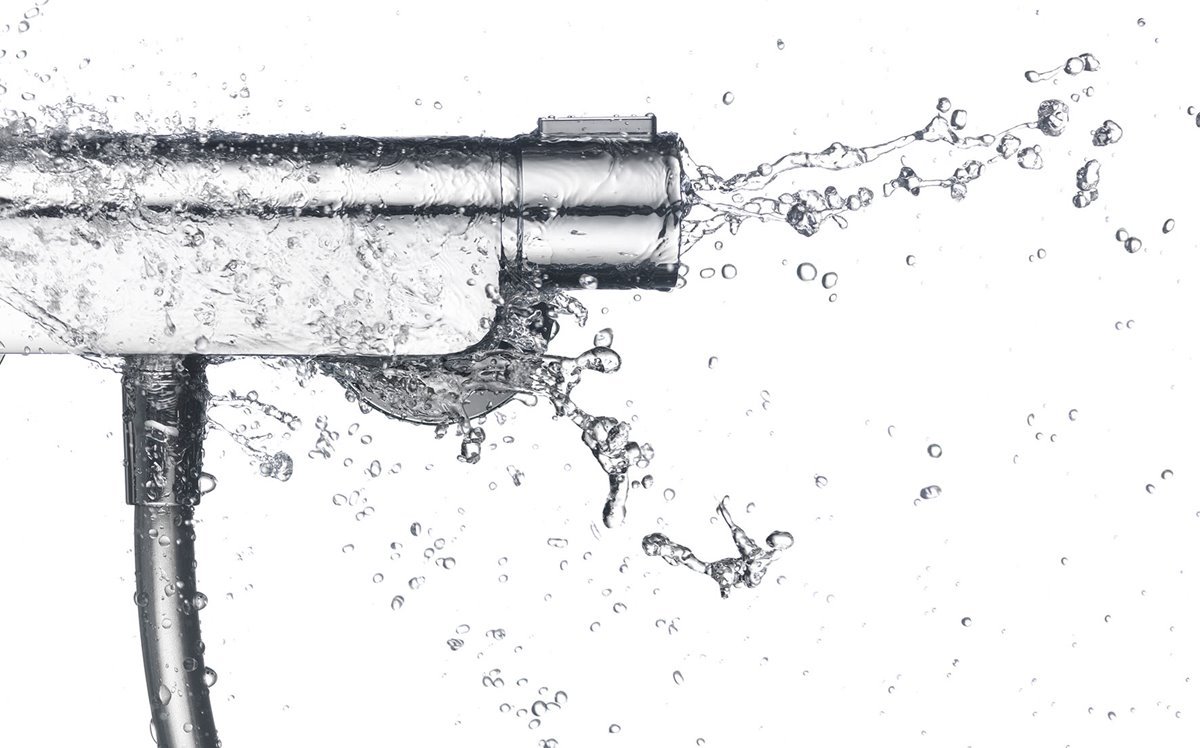 WHAT SHOWER CAN I FIT?
When deciding on the best shower for your home you'll be presented with a lot of choice. Factors to consider include shower type (smart digital, electric, mixer, power), the number of shower heads/outlets and their style, round vs. square valves and in wall (concealed) vs. on wall valves (exposed).
However, the most important consideration that will affect the performance is the water system that supplies your shower. That's why we've put this handy summary together to help you understand the differences, as these will affect the type of shower that you could or should be installing.
There are three main water systems in the UK; gravity, combination boiler (combi) and unvented mains-fed (High pressure or HP system).
WHAT IS A GRAVITY SYSTEM?
Gravity water systems are the traditional plumbing system in the UK and tend to be found in older properties.
They have a hot and cold water feed consisting of a cold water tank, usually located in the roof space, and a hot water cylinder, frequently in the airing cupboard.
The greater the distance from the bottom of the cold tank to the top of the shower head, the better the shower's performance. A booster pump is often added to the water system to increase the flow rate performance of the shower.
Pros:
Large tank capacity
Stored hot water, ready to use
Ability to add a pump for increased shower pressure
Cons:
Capacity of tank can be a limitation for large families and shared dwellings
Time to reheat water can be lengthy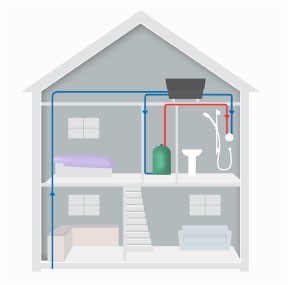 WHAT IS A COMBINATION BOILER SYSTEM?
Cold mains water feeds the shower and supplies the combi boiler. Combi boiler systems heat your water as you use it and consist of a boiler attached to a wall, often in the kitchen.

This water system isn't suitable for use with booster pumps.
Pros:
Only pay to heat the water you use
Never run out of hot water
Cons:
No stored supply of hot water if boiler were to breakdown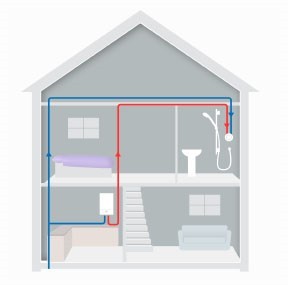 WHAT IS AN UNVENTED MAINS-FED SYSTEM?
Cold mains water feeds both the shower and hot water cylinder directly. The hot water cylinder is usually located in the airing cupboard, utility area or garage, with many being recognised by the expansion vessel on the top. These systems are usually found in newer or refurbished properties.
This water system isn't suitable for use with booster pump.
Pros:
Mains pressure hot water
Stored hot water, ready to use
No need for a cold water storage tank
Cons:
Capacity of tank can be a limitation for large families/shared dwellings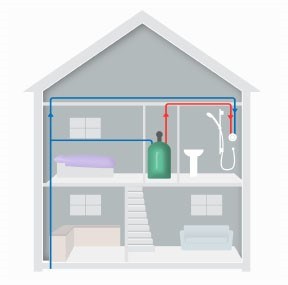 DO YOU WANT TO USE YOUR EXISTING HOT WATER SYSTEM?
It's important to ask yourself whether there will be enough hot water to service the demand placed on your new shower by everyone that will use it, as well as the rest of the property, because this will influence the type of shower you choose. If you are unsure whether you have enough hot water, contact your plumber.
Yes, I want to use the hot water system in my house
If you are happy that you have a plentiful supply of hot water from your water system, we recommend one of our smart or mixer showers.
Aqualisa smart showers are an easy installation option and provide precise showering control, as well as the following benefits:
LED temperature indicator

Aqualisa thermostatic mixing technology, measuring water temperature 10 times per second to deliver a stable temperature and overall showering experience

A remote to switch on the shower from outside the showering enclosure

Automatic shut-off for safety

Eco features (for Aqualisa Q™ this includes "Water Save" which automatically reduces the flow of your shower when you step more than 0.5m – 0.75m away)

Diverter technology, allowing users to transfer water flow through different shower heads and bath fillers

Personalisation

Timer features (available with Aqualisa Q™ and Q™ EDITION)
If you have a gravity water system, you will need a gravity pumped (GP) smart shower (which comes with an integrated booster pump to ensure good water flow) and if you have a combination boiler or mains-fed water system, you will need a high pressure (HP/Combi) smart shower.
Aqualisa mixer showers offer a range of choices and styles for both modern and traditional bathrooms. The benefits of thermostatic mixer showers are:
The precise and stable blending of hot and cold water, meaning low risk of a hot or cold shock! (TMV safety standards apply to regulate the performance of thermostatic showers)

Factory set maximum temperature for extra peace of mind for young families or elderly users with more sensitivity to extreme temperatures

Automatic shut-off for safety if the hot or cold water supply were to fail

Rub clean shower head nozzles for easy cleaning of limescale build up

Choice of multiple shower heads and bath fillers
Aqualisa has an extensive range of mixer showers designed especially for gravity water systems, so check out the range. For more powerful performance choose an Aqualisa mixer shower and combine with an additional booster pump or take a look at our ever popular Aquastream power shower range (which comes with a built-in booster pump).
Aqualisa also has a range of thermostatic mixer showers that are suitable for combi boiler and mains-fed systems.
No, I don't want to use the hot water system in my house
If you do not want to use your hot water system, or even if you have enough hot water but want to reduce your reliance on it due to having a large family, then electric showers may be a more suitable option.
Aqualisa electric showers are stylishly designed, energy efficient and activated by one touch control, as well as:
Self-heating showers that never run out of hot water

Only heats water that is used

Great second showers

Safety features

Available in 8.5kW, 9.5kW and 10.5kW power ratings
For further information and advice on water system compatibility, you can contact Aqualisa by phone, email or via the Live Chat feature in the bottom right of your screen.