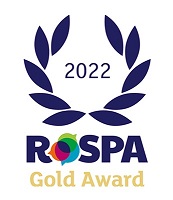 Aqualisa wins RoSPA Gold Award for health and safety achievements
Aqualisa wins RoSPA Gold Award for health and safety achievements

British bathroom specialist receives highest safety recognition from industry body.
Bathroom product specialist Aqualisa has once again been honoured with the RoSPA Gold Award, an internationally-recognised accolade for demonstrating the highest health and safety standards.
Organisations that receive a RoSPA Award are recognised as being world leaders in health and safety practice. Almost 2,000 entrants compete each year to achieve the top prize in the UK's longest-running health and safety industry awards.
Mat Norris, CEO at Aqualisa, commented, "Aqualisa has an ongoing commitment to health and safety best practice throughout the business. I am extremely proud of our people, who consistently strive to ensure that the company maintains the highest standards at all times – delivering a safe working environment whatever their role or location. Receiving the RoSPA Gold Award is testimony to everyone's hard work over the past 12 months, and I thank my team for their dedication."
Julia Small, RoSPA's achievements director, said: "This is a fantastic and well-deserved accomplishment. All our award entrants demonstrate their unwavering commitment and passion for keeping people safe at work. By receiving this recognition, Aqualisa joins like-minded businesses and organisations worldwide, who represent the very best in their approach to health and safety. I would like to add my personal thanks for all the work that it has taken to secure this well-deserved award – congratulations to all those involved, who champion and drive up health and safety standards every day. You are a fantastic example to others in your sector."
Notes to editors
Download high resolution image: https://www.dropbox.com/sh/lf6jockevcw1ayv/AABqOZZuF6ii-8SF6A3n4T27a?dl=0
For further information, please contact:
Jenny Hodge
Attention to Detail Communications
[email protected]
Tel: 07775 897360
Aqualisa online newsroom: https://www.aqualisa.co.uk/newsroom.html
About Aqualisa Products Limited
Aqualisa offers an extensive range of trusted showers across the smart digital, mixer, power and electric categories as well as a host of other innovative bathroom solutions. Its products are enjoyed by millions of people across the UK every single day. The Aqualisa journey began in 1976 when the company's founder invented and patented a ground-breaking bi-metallic coil that stabilised temperature and flow, revolutionising safety in showering. That was followed with the world's first digital shower, allowing temperature and flow to be electronically adjusted instantly and very precisely. Pioneers in technology and design, in 2020 Aqualisa led the way in truly smart showers bringing personalisation, voice activation and eco-friendly enhancements to the home shower experience. Every Aqualisa product is backed by exceptional customer service and the Aqualisa guarantee.
For more information, please visit: www.aqualisa.co.uk
About the RoSPA Awards
The RoSPA Awards scheme is the longest-running of its kind in the UK, and receives entries from organisations across the globe, making it one of the most sought-after achievement awards for health and safety worldwide. Currently, around 7 million people are directly impacted by the RoSPA Awards, but the scheme's global influence is even wider – with nearly 2,000 organisations from 50 countries represented this year. For more information about the RoSPA Awards, please visit www.rospa.com/awards
Aqualisa is a registered trademark of Aqualisa Products Limited, The Flyers Way, Westerham, Kent TN16 1DE.