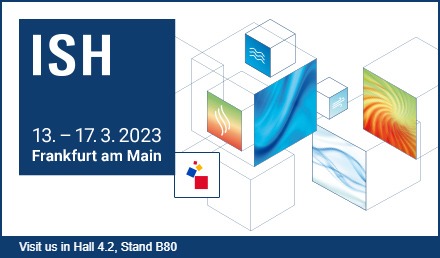 Aqualisa attending ISH Frankfurt 2023
13-17 March 2023
Aqualisa, Stand B80, Hall 4.2
Aqualisa – the UK's leading brand in faucets and mixers – will be exhibiting at ISH 2023 in Frankfurt this year, showcasing its innovative collection of smart digital and concealed shower solutions.
Pioneers in technology and design, Aqualisa has continually led the way in smart showers, bringing personalisation, voice activation and water saving enhancements to the home shower experience.
The Aqualisa smart shower range comes with an easy-to-use mobile app, allowing each member of the household to set up a personalised showering profile with their preferred temperature, water flow and timings. The showers can be started remotely via Wi-Fi, voice-controlled using Alexa or Google Assistant, or activated with a remote control. Helping to save water and costs, these clever showers allow homeowners to monitor water consumption and control shower duration. And thanks to Aqualisa's SmartValve technology, the flow rate can be switched to Eco mode to reduce water usage by up to 33% and help lower household bills. The SmartValve also enables the maximum temperature can be set during installation, to ensure safe showering for the whole family. A bath fill option allows remote selection of the perfect bath temperature and level.
At ISH, the world will also be introduced to Aquahub, Elisa's premium concealed mixer system with just 60mm installation depth requirement, total flow control and a choice of fascia plates.
The Aqualisa journey began in 1976 when the company's founder invented and patented a ground-breaking bi-metallic coil that stabilised temperature and flow, revolutionising safety in showering. That was followed with the world's first digital shower, allowing temperature and flow to be electronically adjusted instantly and very precisely. Its products are enjoyed by millions of people across the UK every single day.
Aqualisa is a Fortune Brands company. Every Aqualisa product is backed by exceptional customer service and the Aqualisa guarantee.
For more information, please visit: www.aqualisa.co.uk
Aqualisa at ISH 2023: ish.messefrankfurt.com
Aqualisa International BV
Jan Palfijnstraat 26/02
8500 Kortrijk
Belgium
Tel: +32 475 60 36 18